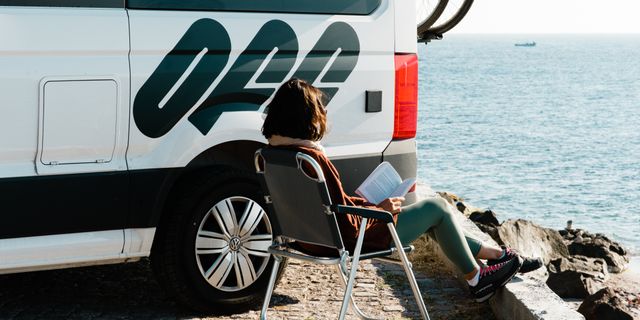 1. Choose a model

Choose between our different models
A B-class drivers license is sufficient for all our vehicles

2. Choose a time period

Specify time and date
Flexible handovers from 8 am - 5 pm every day
If a time slot appears grey it is not available

3. Camper configuration

Add bicycle racks
Choose additional outdoor and camping equipment
Choose blankets and towels
Add a child seat
Add any further equipment you need

4. Add services

Dog camper
Inside cleaning of the vehicle after your trip
Park your car at our location while you're gone

5. Choose your insurance coverage

Fully comprehensive insurance is the standard for all our vehicles
All kilometres and drivers included in the price
Optionally you can choose one of our carefree insurance packages

6. CO2 compensation

Based on your mileage, we determine the kilometers driven for all trips and compensate them 100%.
That's it! Now you can choose between Paypal, credit card or SOFORT to pay and complete your booking.

After the completion of your booking you will receive e-mails on a regular basis which aim to prepare you for your trip.
Both the pick-up and the return of the van take place at one of our locations.

Pick-up

We await you at the time agreed upon
Arrival by car or public transport possible
The deposit is paid at the rental location - please bring a credit card
Detailed briefing (duration: approx. 35 minutes)

Return

Please clean the inside of your vehicle (if not booked as an extra service)
Empty your fresh and waste water tanks
Empty and clean the toilet
Please bring back the camper with a full tank
Please plan approx. 20 minutes in total for returning the vehicle
Where am I allowed to go?

EU, NOR, GB, CH, LIE and balkan states
To all cities thanks to the conformant exhaust emission standard
Please keep the obligatory vignette in mind

Who can help when I'm facing problems?

Our travel support can be reached from 8 am - 12 pm
Your very own board book in every camper
Claims hotline of the insurance company
Customers who cancel their trip more than 60 days in advance of the start of their rental period get their full payment back.

Customers who cancel their trip in between 60 days and 48 hours before the start of their rental period get their payment back in form of a CamperBoys travel voucher which is valid for the next 3 years. In addition, there is no extra cancellation fee charged.

These special regulations are an addition to our

GTC

.