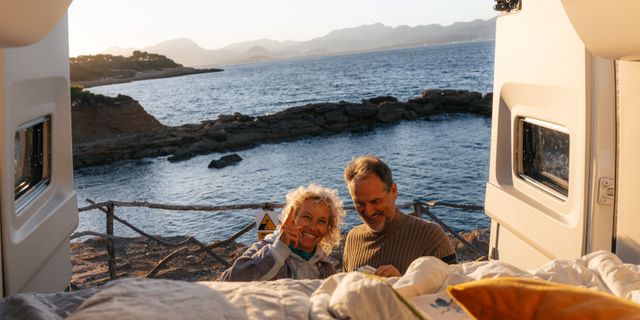 Easy peasy travel planning
Your travel guide - just better.
The Off Guide provides travel tips: Places, campsites, activities and restaurants - individually tailored. Every road trip is only as good as its route.
Make the most of your holiday

Don't waste time planning your trip and make the most of your valuable vacation time.

Custom travel

We customize your trip to match your individual interests and needs.

Get inspired

We give you inspiration for campsites, restaurants and activities along your route without booking anything - This way you stay spontaneous.
Step by step
Four steps to you very own roadtrip
Let our travel designers plan your personalised itinerary with a selection of magnificent stops, campsites, activities and restaurants.
1. Book Off Guide

When booking the camper you can select the Off Guide for 12€ per day or book it afterwards as a separate add-on product.

2. We get in touch

In a questionnaire and a subsequent final interview we will learn everything about your vacation requests.

3. Let us do the planning

Our travel designers put together your individual trip with destinations, route, stops, campsites, restaurants and activities.

4. Your Itinerary

You'll receive your route as pdf or via the Trip Plans app. This way you'll always have your personal travel guide with you.
Take it!
Book your Off Guide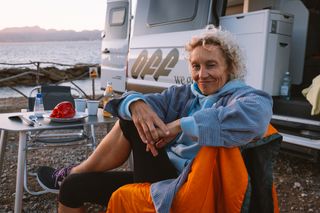 With or without camper
Your most relaxed and individual road trip is within reach! Simply choose whether you would like to book the Off Guide as stand alone or the Off Guide with camper. Our travel designers will contact you personally after booking.
We're happy, if you are!
Happy Campers
Clara

"The direct service was great. Julia was very sympathetic and turned our wishes and ideas into a fantastic trip!"

Martin & Sarah

"Our dog was part of the planning, thanks to Julia. It war a trip we all enjoyed extremely. I will absolutely book this again."

Catja & Fabian

"A real win for camping newbies like us. Great ideas for kids and well chosen campsites at each and every stop."

Jörg

"Surprising places we would never have found on our own. The Off Guide really saved us time and stress planning. Top!"
Travel Planner FAQ
Here you can find answers to frequently asked questions concerning our Travel Planner
With the Off Guide, we can design your individual digital travel guide for every country in Europe. No matter where you want to go or what you want to do on your trip - we've got you covered. We customize the trip according to your wishes and provide you with suggestions and inspiration for stops, campsites, restaurants and activities. You stay flexible! We do not book anything yet, but provide input - the trip remains yours!
How much does the Off Guide cost?

The Off Guide costs 12€ per day. Regardless of whether you book a camper with us or travel in your own camper.
What does the Off Guide include?

The Off Guide is tailored to you and your wishes. It includes an itinerary with various stops, tips on local sights and activities, as well as parking and restaurant recommendations. However, we also reach our limits when it comes to topics such as road quality, special features of XXL motorhomes (12m in length) or entry regulations for pedigree dogs.
Can I also book the Off Guide later or for a trip with my own camper?

Yes, our Off Guide can also be booked as a single product. If you've already rented your camper or are on the road with your own camper, you can easily book the Off Guide afterwards.
I booked the Off Guide. What's next?

One of our travel designers will get in touch and send you a questionnaire to find out as much as possible about you and what you expect from your holiday. Afterwards you will finalise your itinerary in a short phone call. As soon as your trip is ready, you can access it in the

app

(Travel Plans by Travefy), as a web link or we can send you a PDF.
Do you also book pitches and camp sites for me?

No, our Off Guide gives you inspiration and recommendations. You still remain flexible! We do not book anything, we provide input - the trip remains yours!

For the peak season we recommend booking your pitch as early as possible. And: The sooner you book our Off Guide, the sooner you will receive our recommendations.
How many days before departure can I book the Off Guide with you?

We work to create your route as soon as possible. Usually you will receive it about 2-4 weeks before departure. However, for short term bookings it can be a bit tighter. However, we will send you recommendations for pitches and campsites earlier to facilitate possible advance reservations.
How many days before departure will I receive my itinerary?

This depends on how far in the future your departure date is at the time of booking. Usually, you will receive your itinerary 1-2 weeks before departure. For bookings on short notice you will receive your itinerary upon individual agreement. However, we will send you recommendations for pitches and campsites earlier to make it easier for you to book them in advance if you would like to.
I have received the itinerary and now I want to go somewhere else. Can I adjust the route?

If you decide to go somewhere else (e.g. because of the weather) we will be happy to plan a new itinerary for you. However, we cannot guarantee that a rescheduling is possible shortly before departure. It is best to reach out to us as early as possible. Please note that we will have to charge you for the new initerary.
Can I talk to you in advance to clarify some questions about the Off Guide?
What makes the Off Guide your ideal travel companion?

We do the planning, so you can save time before your departure.
Our routes are tailored individually to your needs.
Our travel designers know lots of places you might not have thought of yourself (insider tips).
You can enjoy your holiday to the fullest instead of doing research while you are there.
Especially for newcomers to camping, the flood of information can be overwhelming. We will guide you through the jungle of information.
Is it possible to cancel the Off Guide?

A cancellation of the Off Guide is free of charge as long as you have not yet returned the questionnaire for individual route planning. After returning the questionnaire, a cancellation is subject to a fee.

If you have booked the Off Guide in addition to one of our campers and have already completed the questionnaire, the following conditions for a cancellation apply:

Up to 60 days before the start of the rental period, the cancellation fee for the Off Guide is 100%.

Between 60 days and 48 hours before the start of the rental, the cancellation fee for the Off Guide is also 100%. These charges will be deducted from the voucher value you receive when you cancel your camper.
Off Blog
We love
inspiration
You can find inspiration for your Off Guide on our blog. Off you go!
Questions or booking request
Just text us your concern and we are happy to help.