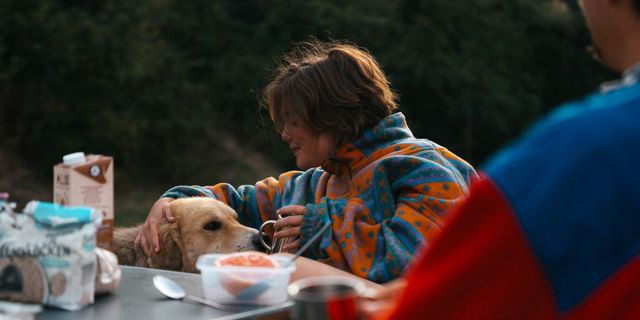 Nobodys is left behind!
Take your Dog on camping vacation
You want to travel, but not without your dog? Good. At Off all campers are dog-friendly. Just choose your camper, select the option "dog camper" and start your camping adventure with your four-legged friend!
This is what you should pay attention to!
Tips for renting a motorhome with a dog
You know your dog best. You know what he likes or doesn't like, what calms him down or agitates him. On the trip it is especially important to respond to those needs mindfully! In addition, there are some general tips.
Travelling safe

A dog in the car is considered a load in road traffic and must be adequately secured. Either with a dog safety belt, box or in the trunk.

Dog blanket

The special Dog camper cleaning covers dirt, but you may still be charged for upholstery damage. Take an extra blanket for prevention.

Keep up routines

Habits provide security. Feed your dog the food he's used to, take his favorite toy with him and go for a walk at the same time as usual.
Where to go?
Campsites for dogs
By now, most campgrounds are open to dogs. Nevertheless, there are exceptions. To prevent circumstances, you should therefore thoroughly research or call in advance. Here we have three campsite recommendations where your dog is definitely welcome!
Dog Camping: Lüneburger Heide

Due to its location in the heart of the nature reserve Lüneburger Heide, Camping Park Lüneburger Heide offers camping close to nature and excellent offers for your dog!

✅ Dog shower

✅ Dog meadow (free run)

✅ Dog playground

✅ Dogs allowed in the restaurant

✅ Dog food etc. available in the store

✅ Free dog bags
Camping with a dog in Allweglehen

In the middle of the peace & beauty of the Berchtesgaden National Park lies the camping resort Allweglehen. This is not only a real oasis of relaxation in the middle of the mountains, but also dog-friendly.

✅ Dog shower

✅ Dogs allowed in the restaurant

✅ Free dog bags
vacation with a dog on Gut Kalberschnacke

Camping Gut Kalberschnacke is again this year among the 110 best campsites in Europe. In addition, dogs are always welcome here:

✅ Dog shower

✅ Dog meadow (free run)

✅ Dogs allowed in the restaurant

✅ Free dog bags
Inspiration
Travel planning with dog