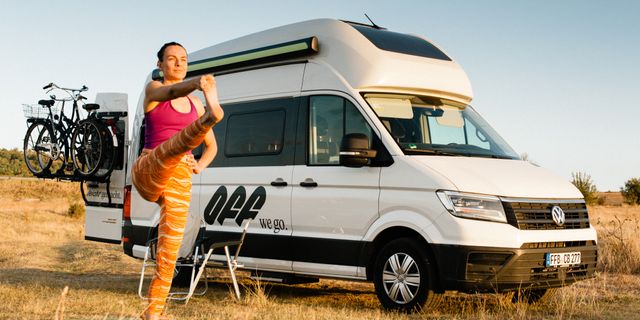 From 999€ per Month
Benefits of our Camper Subscription
Are you planning your parental leave, a sabbatical or would you like to be a part-time digital nomad? Book your temporary home for a monthly fixed price no matter if you travel for 2 months or a whole year. One monthly rate and everything is included.
Insurance

Fully comprehensive insurance, tax, maintenance costs included

Subscription as of 2 month

On the road for up to a year

2,000 free kilometers

2,000 km per month included

Fair prices

Seasonal monthly fixed prices

Best Service

With travel support until 12 pm
Camper Models on Subscription
Always a good choice
Are you looking for a companion for your next adventure? We have a broad selection of campervans, you will find everything from Bullis to mini mobile homes. Our campers are waiting to experience adventures with you.
How it works
Booking
step by step
1. Choose your Camper

Choose the camper which suits you and your needs the best. You can subscribe from 2 months on.

2. Booking Request

You start a binding request for your desired period via the website. You can also book add-on equipment.

3. Confirm Camper Subscription

Once we have checked all your details you will receive your booking confirmation with payment details.

4. Off to your Adventure

Enjoy your camper adventure and your freedom! You can travel up to 12 months with the camper subscription.
Maximum Fairness
Camper Subscription & Kilometer Prices
Prices for Camper Subscriptions

Prices additional kilometres
The monthly price includes all costs except petrol. This means that we cover comprehensive motor vehicle insurance, service and wearing, all applicable taxes and registration costs.
| Month | Nov. - Mar. | Apr. & Oct. | May & Sept. | Jun. - Aug. |
| --- | --- | --- | --- | --- |
| Mth. fixed price, incl. 2,000km | from 999€ | from 1,499€ | from 1,799€ | from 2,299€ |
The monthly costs vary depending on the vehicle. In addition, there is a one time subscription fee of 169€ when you book a subscription. Your monthly subscription rate is calculated from the average of the monthly fixed prices.
Calculation as example:
VW California Beach with the camper subscription from March to April.
1 x 999€ (price March) + 1 x 1,599€ (price April) = 2,598€ total subscription price -> 1,299€ monthly subscription rate